October 9, 2020
Share
Kelley Kronenberg Supports Broward County Hispanic Bar Association's Noche Latina Two-Part Virtual Event
Kelley Kronenberg is proud to support the Broward County Hispanic Bar Association's (BCHBA) Noche Latina two-part virtual event to close out Hispanic Heritage month!
On Wednesday, October 14, the BCHBA will have a Paella chef on site where registrants will be able to pick up their orders. Each registrant will receive a raffle ticket and will automatically be entered to win a raffle prize to be announced on day two.
On Thursday, October 15, a zoom event will take place at 5:30 PM and registrants will learn how to make a summer mojito and picadillo empanadas by Padrino's Cuban Restaurant. The evening will wrap up with Judge Garcia-Wood as she makes a classic flan!
To learn more and to register, click here.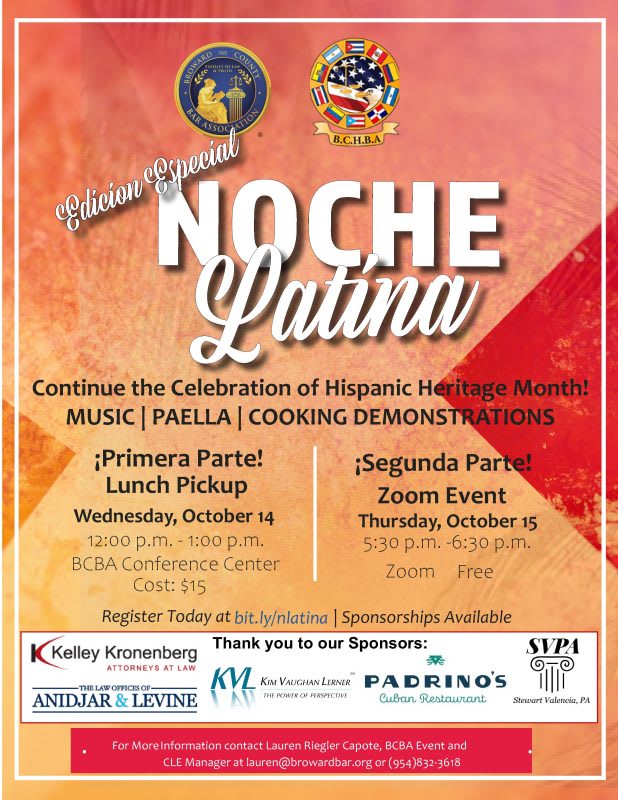 ###
ABOUT KELLEY KRONENBERG
Kelley Kronenberg is a multi-practice business law firm with nearly 400 employees, more than 175 attorneys and 11 locations throughout Florida and the United States. Founded in 1980, the firm is one of the fastest-growing law firms in Florida and amongst the largest in the U.S. The firm serves all types and sizes of public and private companies, including small businesses and individuals nationwide. Kelley Kronenberg has been recognized amongst the "Largest U.S. Law Firms" by the National Law Journal's NLJ 500, Law 360 400, and Florida Trend in 2020, "America's Top Corporate Law Firms" by Forbes and "Top 10" in NLJ's Women's Scorecard in 2019. The firm has been the recipient of many accolades most recently including in 2020: "Best Multi-Practice Business Law Firm – USA," Acquisition International; "Top Workplaces," Sun Sentinel; "Best Places to Work," South Florida Business Journal;  "Business of the Year," "Top 100 Private Companies," "Top Law Firms," and "Largest Law Firms," South Florida Business Journal; "Largest Law Firms," Tampa Bay Business Journal, Orlando Business Journal,  and Jacksonville Business Journal; "Biggest Law Firms in Florida," Florida Trend; "Top 100 Law Firms," South Florida Business & Wealth; Florida's Largest Law Firms," American Lawyer's, Daily Business Review "Review 100" and "Best Law Firms," U.S. News – Best Lawyers®. For more information, visit www.kklaw.com.
MEDIA CONTACT:
Michelle Martinez Reyes, Chief Relations Officer
mmartinezreyes@kklaw.com