February 26, 2014
Share
Kelley Kronenberg Principal Partner and CFO Heath Eskalyo Selected as a Claims & Litigation Management Alliance Regional Chair
Fort Lauderdale, Fla. – Civil trial litigator Heath Eskalyo was recently selected by the Claims & Litigation Management Alliance (CLM) to serve as a Regional Chair for Florida. The CLM is an inclusive, collaborative organization that promotes and furthers the highest standards of claims and litigation management and brings together the thought leaders in both industries. Mr. Eskalyo is a Principal Partner and the Chief Financial Officer with the national full-service law firm Kelley Kronenberg.
Based in Fort Lauderdale, Mr. Eskalyo focuses his practice on Workers' Compensation, OSHA, Defense Base Act claims, Insurance Fraud, Civil Liability, Construction Law and Occupational Accident and Truckers Occupational Insurance claims. He has been instrumental in Kelley Kronenberg's growth from a statewide practice to a firm with a national presence, and plays a significant role in the firm's business development efforts.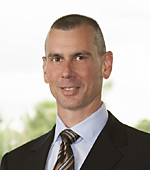 Mr. Eskalyo is a Florida Certified Educator and frequently speaks to managers, claims examiners, attorneys, employers and judges on various aspects of OSHA, Defense Base Act and other Civil Liability matters at local and national trade and educational seminars.
He is admitted to practice law in Florida and New Jersey and holds the prestigious AV® Preeminent™ Peer Review Rating from Martindale-Hubbell.